Engine Refurbishment
Ajax Engine Refurbishment
Key Benefits:

Complete Rebuilds
Upgraded Components
Outlasts other rebuilds!
Lager Radiator
Runs cooler
Lasts Longer
Reduced Maintenance
Improved Seals
Fewer oil changes
Pre tuned performance
Turnkey Facility
20+ years experience
Quick Turn around
Large Volume capacity
Pickup & delivery
Performance rebuild steps include:
Total disassembly, & Vat clean to remove all contaminants.
Full inspection for improved diagnosis and better overhaul outcome.
Cylinder sleeved (cast iron) for maximum compression, easy starting & engine fuel efficiency.
head area surfaced to prevent head gasket leaks.
Heads magna fluxed and surface machined best head to cylinder fit.
Piston and rod assembly complete rebuild and alignments checked.
Machine piston ring grooves
chase all threads before assembly.
Metalize seal areas to prevent combustion gasses from entering crankcase.
Reed valve box surface machined provide best sealing.
Crankshaft magna fluxed, size inspection and polished all journals and seal areas.
New double row tapered roller main bearings for maximum life.
Crosshead resized and machine metalizing process to avoid misalignment.
Crosshead housing polished for reduced sliding friction.
Connecting rod replace crank rod bearing and crosshead bushing with new.
Radiator upgraded from 3-row core to 4-row core for maximum cooling.
Clutch system pressure plates rebuilt and shafts machined & polished
Starter motor rebuilt
Provide engine stand forklift able style for easy load and unload
Paint all major components
Engines are test run and tuned so that no further adjustments will be required.
Engine assembly complete new lube lines, coolant hoses, and wiring. Oil and coolant.
Transportation of engines from your facility to our shop and back.
We Turn This…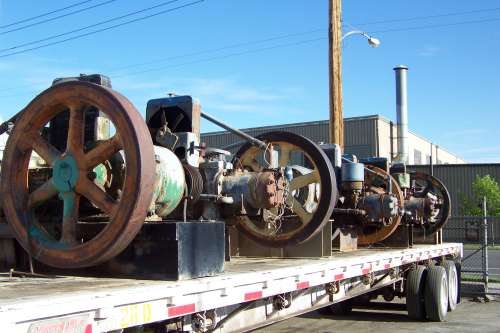 Into This!